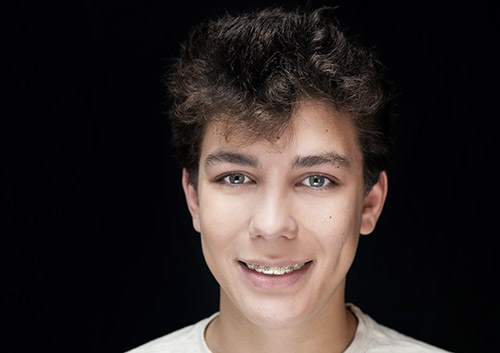 Bite problems are so common that most of us know someone who's worn braces. So perhaps you're already familiar with the terms "overbite" and "underbite"—but if you've been diagnosed with an "overjet," that just might be an orthodontic diagnosis that is new to you. If so, here are a few questions and answers to help promote overjet understanding.
Just what is an "overjet"?
An overjet is a type of malocclusion, which means that there's a problem with your bite, the way your jaws and teeth fit together when you bite down. In a healthy bite, the front top teeth project slightly beyond, and slightly overlap, the bottom teeth. The key word here is "slightly."
An overjet is a Class II malocclusion, which means that the upper front teeth project further beyond the lower teeth than they should. Overjets and overbites are both Class II malocclusions, and the words are often used interchangeably, but there's a notable difference between the two conditions.
An overbite occurs when the top teeth overlap the bottom teeth too far vertically, and you can't see as much of the lower teeth as you should when you bite down.
An overjet is considered more horizontal in nature, where the top teeth project at an outward angle toward the lips instead of pointing straight down toward the bottom teeth. This condition is sometimes called protruding or buck teeth.
What causes an overjet?
The reason for your overjet might be dental (caused by tooth alignment), or skeletal (caused by bone development), or a combination of both.
Overjets can run in families. They can also be caused by the size and position of your jaws and the shape and position of your teeth, all of which affect your bite alignment. But early oral habits, such as prolonged and vigorous thumb-sucking or pacifier use, can also contribute to overjet development.
How do we treat an overjet?
There are many types of treatment available. Dr. Christopher Trentini will recommend a treatment plan based on the cause and severity of your overjet. Because some treatments are effective while bones are still growing, age plays a part as well.
If you have a mild overjet, and minor dental issues are the main cause of the malocclusion, braces or clear aligners can effective.
If the overjet is caused by a problem with upper and lower jaw development, devices called functional appliances can be used to help guide the growth of the jawbones while a child's bones are still forming.
For young patients, there are several appliances which can help correct an overjet. Some, such as the Twin Block and the Forsus Spring appliances, work inside the mouth, while others, like headgear, are worn externally. Your orthodontist will recommend the most effective appliance for your needs.
In some cases, where the malocclusion is skeletal in nature as well as dental, surgical treatment might be necessary to reshape the jawbone itself.
If we recommend surgery, oral and maxillofacial surgeons are experts in surgical procedures designed to create a healthy and symmetrical jaw alignment. Dr. Christopher Trentini will work with your surgeon to design a treatment plan, which will usually include braces or other appliances following surgery.
Why treat your overjet?
A serious, moderate, or even mild overjet can lead to many dental and medical problems, including:
Concerns about facial and dental appearance
Front teeth which are more at risk for injury
Difficulty closing the lips
Problems speaking or chewing
Headaches, facial, and temporomandibular (jaw) joint pain
When you work with our Greensboro, NC team to correct your overjet, you're not just correcting a problem. You're also creating something—a healthy, comfortable bite, and an attractive, confident smile. We can talk about general answers to your overjet questions, but when it comes to understanding your very individual smile, Dr. Christopher Trentini will have all the answers you need to make that healthy bite and that confident smile a reality!