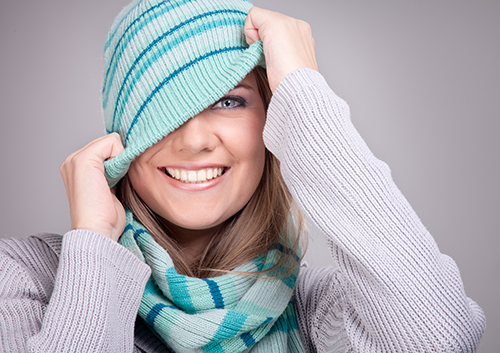 Traditionally, January is a great time to choose some bad habits you'd like to lose, and some good habits you'd like to develop. If one of your goals this year is to help make your orthodontic treatment as efficient and successful as possible, we have the perfect resolutions for your New Year.
If you've grown up brushing for two minutes twice each day and flossing regularly, you have been doing everything right! But now that you have braces or aligners, you should plan on brushing after every meal and each snack.
Food particles can stick to wires and brackets, which is nothing to smile about. Worse, plaque can be easy to miss around your braces, which can lead to enamel erosion and possible cavities. Brushing after eating is the best way to eliminate food particles and plaque from braces and enamel, but if you can't brush, be sure to rinse well with water.
Patients with aligners benefit from brushing, too, to keep food particles and sugary or acidic beverages from remaining trapped around the teeth after the aligners are replaced. If you absolutely can't brush, remember to rinse carefully with water after eating and drinking and before replacing your aligners.
Changes to our diets are probably one of the most common resolutions, so it's no surprise we have recommendations for your dental diet. Dr. Christopher Trentini and our team are happy to provide you with a comprehensive list of the foods that can harm your wires and brackets, or which are especially difficult to keep from sticking to your appliance and enamel. No tempting caramels or buttery ears of corn are worth damage to your braces! Follow the guidelines for braces-friendly foods, and you'll help keep your treatment problem-free and on track.
Wearing braces or aligners can require some interactive work on your part. If you are supposed to wear your aligners for 22 hours a day, be sure to follow those instructions to keep your treatment plan on schedule. If you have bands that you need to wear with your traditional braces to help correct your bite, wear them as directed. And never try to make up for lost time by doubling your bands—this can actually be harmful to your teeth.
If we can help demonstrate or explain anything you need to do at home, don't be afraid to ask!
Keep your retainer case handy
When you finish orthodontic treatment, you will probably have a retainer to help your teeth maintain their new, healthy alignment. Keep your retainer healthy by making sure to use your case whenever you're not wearing it. Bent, broken, or lost retainers should be repaired or replaced as soon as possible to avoid changes in that smile you've worked so hard for.
The more you stay on schedule, the faster you will achieve your ideal smile. And if you have a problem between appointments, call our Greensboro, NC office! Broken braces and aligners aren't effective and can delay your progress, so let us know if you think you might need to see us earlier than scheduled. Finally, don't forget your regular exams and cleanings at your dentist's office.
Traditionally, the beginning of the year is a great time to choose some bad habits you'd like to lose, and some good habits you'd like to develop. But you needn't wait for that New Year's Eve countdown clock. Adopting these orthodontic resolutions at any time of year will keep you on track for a lifetime of beautiful, healthy smiles.